In part two of the toolpost grinder series, we get started by turning the spindle body out of a chunk of 12L14 mild steel.  This turns out to be a bigger job than imagined, and we find out some of the limitations of the lathe.  And then fix it.
The task is simple: hog the material out of the center of the spindle blank.  It's a one-inch hole, all the way through a five-inch-long part.  In the end, it doesn't have to be perfect, but I can't do anything halfway, so I'm going to end up boring it so it'll be on-size and concentric, but that doesn't mean I have to spend an hour boring out the whole thing.
The fastest way to remove lots of material from a hole is with a drill.  This lathe has an MT3 taper in the tailstock, so it can hold some pretty big drills.  I found a great deal on a 57/64″ drill and decided to give it a shot.  On paper, this lathe has enough grunt to push a drill like this through mild steel.  Unfortunately, we're not working on paper.  We're working in the real world, where things don't always go to plan.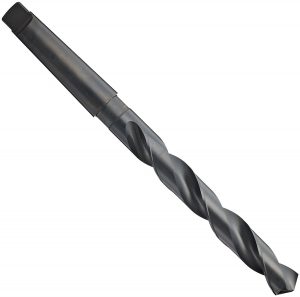 I got the drill through the workpiece, but in the process did some damage to the tailstock.  It turns out the headstock can dish out more torque than the tailstock can absorb–at least the way it came from the factory.  The torque bearing against the keyway in the tailstock ram raised up the metal, jamming the tailstock in the bore.
I ultimately had to pound the ram out of the tailstock casting with a punch and a dead-blow hammer, stone off the high spots and then make a new screw.
If you'd like to follow along with the build, here are a few of the parts and tools we're using:
*full disclosure: these are affiliate links.  When you click one of these links and make a purchase, it helps support projects and videos like this one.
The whole video series is available as a YouTube playlist.